Brodie Waters set to race Superbike at Barbagallo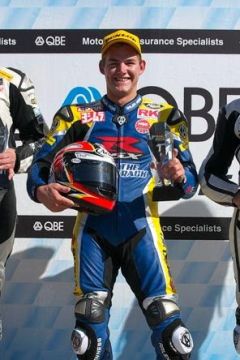 There is a buzz of excitement at Mildura while preparations are underway for the third round of the ASBK Superbike Championship. Brodie Waters will debut on the Team Suzuki Australia GSXR-1000 Superbike and race for for the first time in many years against his brother Josh Waters.
Brodie won at Barbagallo in 2011 on a Team Suzuki Prostock 1000 and is hoping his success at the track will convert to some close racing with his brother and the other factory riders in the ASBK.
This weekend, 5-6th May at Barbagallo Raceway in Western Australia, is the first of 2 rounds where the Australian Superbikes race on the same programme as the Australian V8 Super Cars. Brodie will again race the Team Suzuki Superbike at the V8 Supercars round at Phillip Island on the 19-20 May 2012.
Tune in for coverage on Channel 7 over the weekend and see how the Brodie & Josh enjoying racing together.
Image: Brodie after winning at Barbagello in 2011