Brodie to head up Team Suzuki Supersport for 2012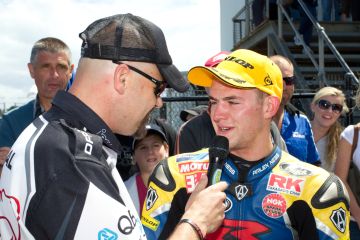 Team Suzuki is pleased to announce its rider line-up for the 2012 Australian Superbike Championship, which commences at Phillip Island in Victoria on 24-26 February.
Team Suzuki's official Supersport program will be spearheaded by talented 19-year-old Brodie Waters, who returns for his second season as part of the factory operation on the GSX-R600. Waters finished second in the series during 2011 and again enters this season as a true championship threat.
"The season kicks off at Phillip Island and we already know that the bike works very well there," Brodie Waters commented. "If we can get off on the right foot there then I believe that 2012 will be my best year yet. I just want to be consistent and work toward the goal of winning the championship."
Brother Josh Waters will once again compete in the premier Superbike ranks and will be joined by newcomer Ben Attard at Team Suzuki Australia. Waters and Attard will make up the team's two-rider factory squad in the Superbike ranks
Team manager Phil Tainton is looking forward to a big year with the return of Josh and Brodie Waters. " I was impressed with the way Brodie was riding at the end of last year, so if he can start this year off with the same form then I believe he can go ahead and have a very strong season. Josh is back to his former self, back to how he was before the major accident he had in 2010, so I think he'll really show them the way around this year."
Team Suzuki will make its official debut at next month's opening round of the Australian Superbike Championship, taking place at Phillip Island in Victoria alongside the opening round of the Superbike World Championship on 24-26 February.