Brodie wins on an ever changing Queensland Raceway track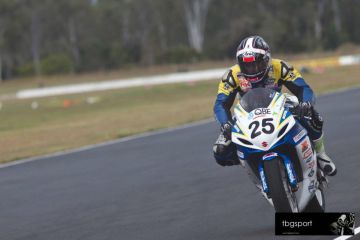 After torential rain, muddy off track excursions and 2 battles on an ever changing track, Brodie won the round at Queensland Raceway.
The first race was contested with wet tyres on a drying track. Practice and qualifying were both in the wet and Brodie started the race from 7th on the grid. After a couple of laps to find where the track was still wet, Brodie started working his way through the pack. The competition was tough and decaying tryes played a part but the effort was rewarded with Brodie finishing 3rd.
The second race provided the drama for the day. The sun tried to shine and it was declared a dry race. Brodie got a good start of the line only to have the race red flagged. It was a quick restart and Brodie quickly settled and knew what he had to do. Brodie worked his way into 4th on the first lap and then 3rd by the second lap. Josh Hook put up a good defense until lap 6 when Brodie overtook and begun to chase down the lead. By lap 9 Brodie was close behind Glenn Scott. Unfortunately Glenn crashed on the wet at turn 1 and with Brodie so close behind he had no where to go but the gravel. The race was declared and Brodie awarded the victory when the officials wound the race back to running order for the race before the incident.
"I knew as soon as I saw Glenn in Turn Three on the first lap of race one I knew the gap he had on us was nearly unrealistic to catch from where I started," Waters said. "I just wanted to work into it and not rush things, but it ended up an okay race for me in third.
"In race two my start was better and we were up there straight away. Glenn got away a little bit, but then we closed him back down and put 1.8 seconds on him to catch up. When I caught him he must have hit a wet patch and tucked the front, then I had nowhere to go.
"It was a bad way to end, but we still managed to get the round win and that's a great result for Team Suzuki. From this point I just need to maintain focus and I really feel like my time on the Superbike at the 2+4 rounds has helped me improve back on the Supersport bike."
The shortened race meant only half points were awarded however the final tally had Brodie winning the weekend with Josh Hook second and Glenn Scott third. Brodie is 12.5 points behind in the championship with 2 rounds to go.
The championship is heading to Phillip Island on 17th August before coming back to Qld Raceway for the final round in September.