Heart Stopping Finish for Brodie Waters Championship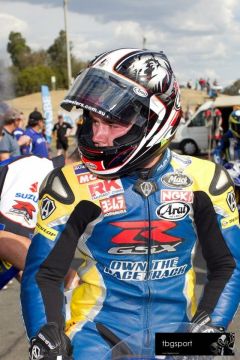 Round 7 at Queensland Raceway had everybody on the edge of their seats - infact it had everyone standing and cheering.
Brodie secured pole and the extra point to start the day on Sunday with a half point lead. Race 1 the 3 contenders for the championship raced tyre to tyre. Brodie and Mitchell Carr swapped the lead many times with Brodie confident in his race plan on how to finish first across the line. Then the worst luck hit, with 2 laps to go, Brodie's bike had a mechanical issue which forced him back to the pits and bank no points for the race. Devasting news for Brodie and the team.
In true racing spirit and team buckled in and prepared the second bike. Brodie was back on the grid for the 2nd race. Brodie put in a massive fight. He pushed for the lead early however the bike wasn't as comfortable and it required pure guts and determination by Brodie to fight of any challenges and finish the race second.
Brodie said " it was good to get a podium finish after such tough luck in the first race. I would like to thank the Suzuki Racing Team and my family and friends who have supported and cheered for me this year. I would also like to thank Aria and Daytona for their support all year. I'm looking forward to enjoying my racing for the rest of this year."
Here is a link to a YouTube clip on the second race. You can see more clips on my YouTube Channel.