Spectacular Racing gets the win for Round 6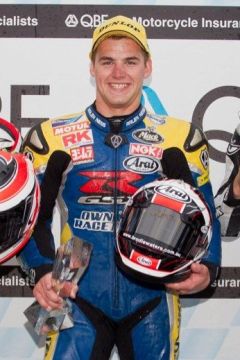 Brodie Waters enjoyed a dream weekend at Phillip Island, picking up his first career double victory in the pair of 12-lap Supersport races. That result sees him climb to second in the championship, just half a point out of the series lead with one round remaining.
Waters rode his Team Suzuki GSX-R600 to a thrilling victories in race one and race two. Both races were tension filled, commentator screaming, nose to tail racing with Brodie showing his riding smarts in the close field. The 3 lead riders, who are all contenders for the championship, pursued each other, twice, for 12 laps with little more that a whisper of air between them. Brodie got away with a good start on race 1 and lead the first 6 leaps followed by 4 laps in second and took the lead back on the penultimate lap holding the close field off to win by 0.079 seconds. Race 2 was more nail biting tension with the lead changing 4 times before Brodie took the lead into turn 1 on the last lap. Riding a more conservative race gave Brodie the tyres and speed to finish with a 0.130 second margin.
After the Phillip Island round went according to plan, Waters is determined to continue the same form when the series reaches its finale at Queensland Raceway next month.

"It's definitely good to be heading into the last round only half a point off the championship lead," Waters said. "The weekend went my way and it was good to get my first double race win. That was a boost of confidence for me, but they were two really tight battles and we were pushing quite hard – I was the one who came out on top on the last lap.

"The wins came at the right time, so it gives me a good chance to see what I can do in this championship at the last round. It's going to be hard work at the final round, but I will try my best as always and hopefully get some wins for this championship."

For a post race interview see Brodie Waters YouTube channel.
Race Call are available on MCNews for Race 1 and Race 2.
Round Six 2012 ASBK CHAMPIONSHIP Supersport Round Results:
1. Brodie WATERS (Team Suzuki) 50
2. Josh HOOK 38
3. Mitchell CARR 38

Supersport Championship Standings (after 4 of 5 rounds):
1. Mitchell CARR 141.5
2. Brodie WATERS (Team Suzuki) 141
3. Josh HOOK 137

The Australian Superbike Championship will conclude at Queensland Raceway on 15-16 September.