Brodie Waters impresses in second outing on Superbike at Phillip Island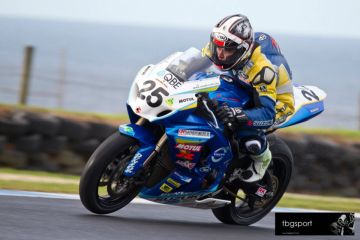 Team Suzuki Supersport regular Brodie Waters returned for his second Superbike outing on the GSX-R1000, claiming ninth overall as he gains further experience in the sport's premier category on a domestic level.
With ninth in race one and a promising eighth in the second, Waters enjoyed the additional seat time during the weekend. "The weekend went well for me and I was able to get faster in every session," Waters commented. "It was good to battle with the likes of Ben Attard and Scotty Charlton, even though I was further back than where I'd like to be. "Those guys have a lot of experience, so it's good to learn a little bit from them what Superbike racing is all about. I had a little bit of arm-pump, but I look forward to more seat time in the future."
The Australian Superbike and Supersport series will be back in action at Queensland Raceway in a standalone event on 1-3 June.
Superbike Round Results:
1. Wayne MAXWELL 51
2. Joshua WATERS (Team Suzuki) 40
3. Robert BUGDEN (Team Volvo Group Suzuki) 35
4. Jamie STAUFFER 34
5. Glenn ALLERTON 33
6. Ben ATTARD (Team Suzuki) 30
7. Scott CHARLTON (Racers Edge Performance Suzuki) 27
8. Ben HENRY (Cube Racing Suzuki) 26
9. Brodie WATERS (Team Suzuki) 25