Brodie Waters Debut on Superbike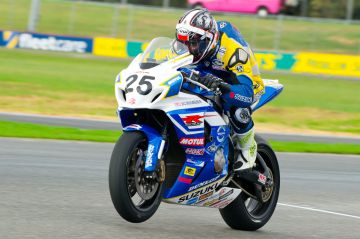 After the searing heat of Darwin the ASBK championship moved to Barbagallo Raceway in WA for Round 3 of the Championship. As a 4 + 2 round there was no Supersport class to contest so the round saw Team Suzuki Supersport regular Brodie Waters make his anticipated Superbike debut aboard a third factory-supported Phil Tainton Racing prepared GSX-R1000. He raced to a calculated eighth overall via 8-7 results, gaining valuable seat time in race conditions for the weekend.
Practice on Friday in the rain was the first time Brodie had a chance to see how he could run on the Superbike. The team made some changes and the first Qualifying session on Friday afternoon saw Brodie lapping at times towards the middle of the field. Qualifying 2 on Saturday morning was the first time the track had some dry patches and the times reflected it. After pushing himself and the bike harder Brodie qualified 11th on the grid.
Race 1 on Saturday afternoon was again on a wet track. Brodie first half of the race was very cautious as he experienced racing the superbike for the first time with a wet track to contend with but by the second half he started progressing though the field and finished his first Superbike race in 8th position. Race 2 saw a determined Brodie ready to race, warm up times were good and the track was finally dry. Brodie finished the race 7th after the race was shortened to 8 laps.
The weekend was a great start for the of 2 rounds Brodie will contest on the Superbike this year. Always striving to be at the front in his racing, Brodie said "I would have liked to have gone better, but the conditions didn't help me out. After a wet weekend I was a little tentative in the opening laps in the dry, but just kept plugging away and the experience was good for me. Hopefully it will help later in my career and I'll definitely be aiming to keep improving at Phillip Island."
The Superbike championship will continue with another two-plus-four round alongside the V8 Supercars at Phillip Island in Victoria on 18-20 May. Australian Supersport will be back in action at Queensland Raceway on 1-3 June.
Image courtesy of flashpixx.net