Brodie third overall in ASBK opening round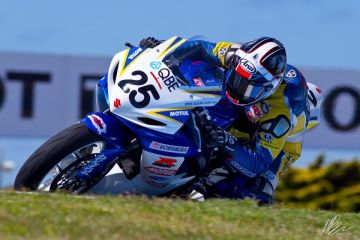 Brodie Waters commenced his 2012 campaign on the podium with third overall aboard the GSX-R600. Brodie finished third in race one and fourth in the shortened second outing, which awarded half points due to the minimal amount of laps completed.
"It wasn't the way that we wanted to start the year, just because we struggled with the race set-up and didn't quite get to the level we needed to for the win," Brodie said. "We'll work on that for the next round and hopefully be able to push for the win."
Philip Islands extreme heat effected tyres over the weekend and the Suzuki struggled with grip. Brodie said "I got good starts and the bike started out fast but having to nurse the tyres as the heat effected the grip meant I struggled more that I would have liked."
Sadly, 17-year-old Queensland rider Oscar McIntyre was involved in a fatal incident during the first Supersport/Superstock race of the weekend on Saturday afternoon. Brodue and his Suzuki Team mates expresses their condolences to the family and friends of Oscar.
The Australian Superbike Championship will continue at Hidden Valley in the Northern Territory on 20-22 April, for round two of the seven-round 2012 season.