Brodie Waters dominates MotoGP Supersport Support Races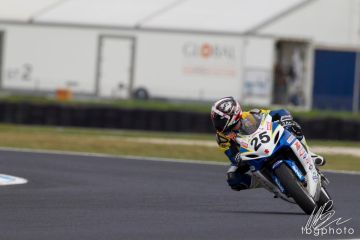 In a weekend full of excitement for Australian and MotoGP fans alike, Brodie Waters showed the world audience what it takes to win Supersport racing at Philip Island.
Philip Island was true to form with wet, windy and hot weather throughout the weekend.
Brodie was fresh back from a number of guest races in the British Supersport Championship, he claimed pole position for the weekend and went on to win all three races in demanding fashion before a record crowd at the picturesque 4.445-kilometre GP venue.
"It was a good way to finish off the year, we were lucky enough to be quickest in the first practice and backed it up with qualifying on pole and taking three race wins," Waters reflected. "We had a disappointing final ASBK round, so it's nice to bounce back with a win here and I can't thank Team Suzuki enough for the effort they've put in with the GSX-R600 this season."